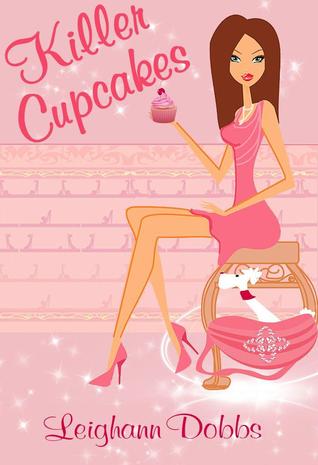 Killer Cupcakes (Lexy Baker Bakery Mystery #1) by Leighann Dobbs
Publication Date: November 2012
Genre: Adult Mystery
Pages: 146
Format: Kindle
Source: Free on Amazon
Read: August 16 to 18, 2014
Things are going great for Lexy Baker. She's finally opened her dream bakery, gotten rid of her cheating boyfriend and settled into her grandmothers house with her perky dog Sprinkles at her side.

But her blissful life doesn't last long. When her ex boyfriend is found poisoned with cupcakes from her bakery, Lexy finds herself in the middle of a murder investigation headed up by her hunky neighbor detective Jack Perillo.

With the help of a gang of iPad toting, would-be detective grandmothers, Lexy decides to take it upon herself to find the real murderer in order to clear her name and get her bakery back in business.

As things heat up on the murder trail, in the kitchen and between Lexy and the hunky detective, it's a race against time to put the real murderer behind bars and get back to baking.

Will Lexy get her man?
Killer Cupcakes has a cute premise, which is why I downloaded it as it's
free
. I've been going crazy with free books lately and going for things that I don't normally read because I'm looking for something
fresh.
This was something fresh for me and it was adorable!
Though if you're looking for an in depth, 300 page mystery, then this book isn't for you. But if you're looking for something fun, quick, and cute with iPad detective granny's then this is for you! The granny's were absolutely adorable, had me grinning so hard! They cracked me up! Definitely made it more of an enjoyable read and gave this book a little more charm for sure!
Lexy was a fun character and one very determined women. Someone thought it was genius to use her famous cupcake tops as the weapon of choice, so of course she's the first suspect. And since she's number one on their list her business gets shut down until the case is solved. So of course, this means she must solve it before the detectives do haha.
Detective Perillo, I don't know, he was charming in the beginning but once he was leading the investigation he kind of bugged me. Why? Because if you're investigating someone you should not get involved with that someone. Yes, this is the romance element of the book but even when you, in your head, knows what you're doing is wrong then you should stop! At least until you know for sure she isn't the murderer, after you know she isn't then yeah, go right ahead and kiss her! But not before, especially when you're feeling guilty about it afterwards.
Besides that, this was overall an entertaining read and I honestly didn't know who it was, until the character did and she was adding up all the clues. I certainly didn't see it (maybe cause this was a quicky or I'm just not used to reading mysteries haha) and the reasoning why this person did it was even more unknown to me, kind of. I was quite shocked actually to why they had used her cupcake tops, that was definitely a twist and it made since once it was spelled out haha. Now I see more of the clues Mrs. Dobbs put out there in subtlety. Good job Mrs. Dobbs. Can't wait to read more of this fun series!
Sweet Readings Everybody!