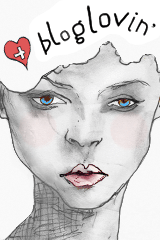 Hey you guys tomorrow is July 1st (well, in most places it will be tomorrow haha) and we all know what that means. Bye Bye Google reader. Which means no more GFC and that's a bit sad as I know we've all worked hard on gaining our followers and now we may loose some :(.
Which is where Bloglovin' comes in handing. You can all import the blogs you are following over there and you can get daily emails of their post and so forth. It's really easy to sign up and to import all your favorite blogs. And it's another easy way to follow new blogs too and an easy way for new people to follow you!
So all our Paranormal newbies mind following us on Bloglovin' if you haven't had the chance to yet. Or make the move to Bloglovin' just like everyone else has been doing haha.
We hope to see many of you guys over on Bloglovin' too and if you want to follow just look to the right side bar and you'll see the button at the top section of it.
Thanks!
We love you guys oh so dearly!
Now some book loving with.....
I am a Book Hoarder (29)
Thank you to the authors and Netgalley!
Cannot wait to dive into them! Especially for The Virginity Mission haha.
~Bought~
Spirit
I haven't bought a book since February and that's pretty fantastic!! :D So yeah, I treated myself and come on its Brigid Kemmerer, she's an automatic buy for me haha <3
Well, there you go folks!
Look out for a lot of those Netgalley reviews as I'm taking part in the Knockout Challenge!
Happy Hoarding Everybody!
Bought
I'm actually almost done with this book already. It' really good.
Happy Reading!