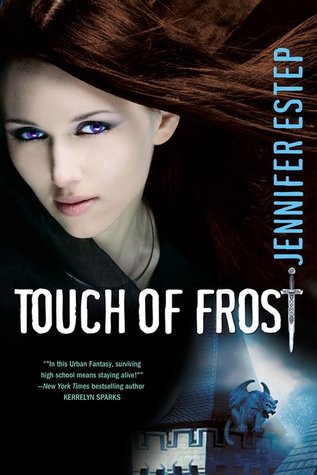 Title: Touch of Frost (Mythos Academy #1)
Author: Jennifer Estep
Publication Date: August 1st 2011
Genre: Young Adult Paranormal
My name is Gwen Frost, and I go to Mythos Academy; a school of myths, magic and warrior whiz kids, where even the lowliest geek knows how to chop off somebody's head with a sword and Logan Quinn, the hottest Spartan guy in school, also happens to be the deadliest. But lately, things have been weird, even for Mythos. First, mean girl Jasmine Ashton was murdered in the Library of Antiquities. Then, someone stole the Bowl of Tears, a magical artifact that can be used to bring about the second Chaos War. You know, death, destruction and lots of other bad, bad things. Freaky stuff like this goes on all the time at Mythos, but I'm determined to find out who killed Jasmine and why; especially since I should have been the one who died...
This is why I fell in love with Young Adult Paranormal way back when (6 to 6 1/2 years ago)! I got sucked in right away! I haven't really truly read a lot of Young Adult Paranormals in a while and I'm not going to lie, this is kinda motivating me to read more of my books on TBR pile (And I have a lot that have been sitting there for three years, three years people!). I really need to get to reading my books, the ones I bought haha.
Anyways, back to Touch of Frost. I was instantly drawn in and I honestly would love to spend all day just reading it (but I can't, hopefully in the future I can do that one day haha). I don't know why I haven't read this sooner! Once I tried reading it but only got up to chapter three and not because it wasn't good, it was because I started it late at night and the next day I just wasn't feeling it. Not the books fault, my fault! It was when I was going through a reading slump and though I feel like I'm in a slight one again reading this book brings me to life and showed me why I love reading so much! I'm not saying the books perfect but for right now, it's just doing the job for me.
Can't wait to see where it goes! Keep an eye out for a review on it later this week!
What are you reading this Monday?
Thanks for stopping by!