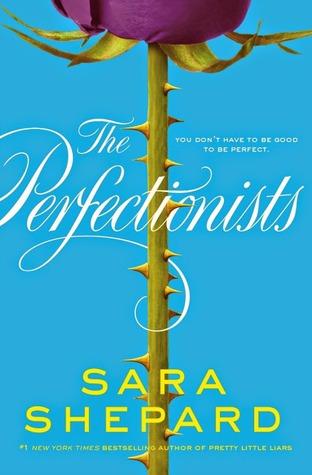 The Perfectionists (The Perfectionists #1) by Sara Shepard
Publication Date: October 7th, 2014
Genre: Young Adult Contemporary Mystery
Pages: 336
Format: Hardcover
Source: Library
Read: May 20th to 23rd, 2015
From the author of the #1 New York Times bestselling series Pretty Little Liars comes a thrilling new novel about five perfect girls who are framed for a murder they didn't commit.

In Beacon Heights, Washington, five girls—Ava, Caitlin, Mackenzie, Julie, and Parker—know that you don't have to be good to be perfect. At first the girls think they have nothing in common, until they realize that they all hate Nolan Hotchkiss, who's done terrible things to each of them. They come up with the perfect way to kill him—a hypothetical murder, of course. It's just a joke...until Nolan turns up dead, in exactly the way they planned. Only, they didn't do it. And unless they find the real killer, their perfect lives will come crashing down around them.

From Sara Shepard, author of the #1 New York Times bestselling Pretty Little Liars series, comes another story of dark secrets, shocking twists, and what happens when five beautiful girls will do anything to hide the ugly truth.
In all honesty I couldn't help BUT compare this to
Pretty Little Liars
. I mean, there's five girls and they all have secrets. One of their secrets is wrapped around the most popular guy in school, who is also the number one bully. Also, they go to a very prestige school so god forbid they have flaws. There's a character name, Ashley (I know some girls give this name a bad rep but come on haha) who seems so much like Mona. She's an underdog that likes to copycat one of the main girls and she's a bitch out to get her. Oh, and someone ends up dead and it seems someone might be framing the girls so they have to find out who before they go to jail.
Seriously, it took me like chapter sixteen to actually get into it and slowly stop comparing this book to Pretty Little Liars, but it was hard guys.
So
hard! I mean, there was two young male characters that were a teacher and a shrink so I'm like, ah man, is there going to be another Aria and Ezra? There's not, thankfully, but the teacher is a total perv. Also, at the funeral the girls huddled together outside, talking and I was wondering so when is the blackmailing text going to begin. There's none, but this felt like Pretty Little Liars, it's insane. I was really hoping for a more original storyline, I didn't expect it to be
so
alike. Though I loved how much more the girls are diverse from each other in this book, I just couldn't stop thinking about Hanna, Aria, Spencer, & Emily. Seriously, I just couldn't help but think this was apart of the Pretty Little Liars series. It could easily be by how close they are alike.
I just don't know, I enjoyed it but since so many things felt similar to her previous works that I just couldn't get into it right away. I'm just thankful it's a duology and not a fifteen book series. And because there is another book, be prepared that there will be more questions and no answers by the end of it. I'm just glad the second book is coming out soon.
Overall I wished it came out different and I feel like since Pretty Little Liars was/is such a hit for Mrs. Shepard she's like, what the hell, let's write this instead of coming up with another original storyline. I just wished she showed us something different, maybe a book with only one point of view instead of multiples. I don't know what to say, but just be prepared for how similar it is and don't expect anything new. It's the same old, same old. I want something more refreshing from this author as she isn't bad, not at all. She's quite an enjoyable author, so I was expecting something more from her. Something that could stand out from her other works. The mystery part of the book was what held me, Mrs. Shepard surely knows how to spin a good mystery though!
Let's just say I've got really mix feelings about this one and from the prologue I knew this was going to be another Pretty Little Liars.......
Sweet Readings Everybody!