Books for Nothing is where I'll be updating you guys on free Kindle reads.
I download tons of Freebies weekly and sometimes I'm too lazy to let you guys know about the tons of books I get on I am a Book Hoarder, so I decided to create this! That way you guys can enjoy the awesomeness too as who doesn't love the word free!
*Note: If some aren't free they became non-free after I scheduled this post
Possess (The Possess Saga #1) by J.A Howell
Publication Date: March 14th, 2013
Genre: Paranormal Mystery
Stumbling off the bus in Midtown, Harley Martin thought she found an escape from her old life.

She soon realizes it was anything but that.

Low on cash and options, she manages to find herself a cheap but surprisingly nice apartment. The catch? The last tenant, Brody Walsh, killed himself.

Or did he?

As disturbing dreams and hauntings start to occur, Harley realizes there may be much more behind the previous tenant's death than a simple suicide. She finds her life further entangled with his when she learns that her new boss, Nolan, was also his best friend. Could this handsome but evasive pub owner have something to do with Brody's death?

Trying to piece together the events surrounding Brody's death proves to be a daunting task, but Harley can't give up. Brody won't let her. He is still in the apartment with her, trapped in limbo until she finds his killer.

But he's not waiting for revenge.

Harley's next.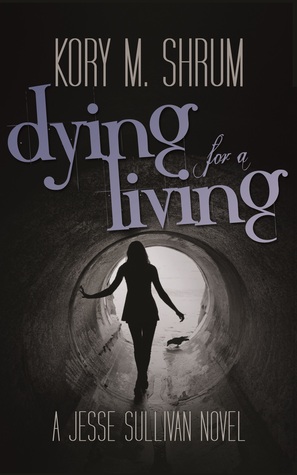 Dying for a Living (Jesse Sullivan #1) by Kory M. Shrum
Publication Date: March 4th, 2014
Genre: Urban Fantasy
On the morning before her 67th death, it is business as usual for Jesse Sullivan: meet with the mortician, counsel soon-to-be-dead clients, and have coffee while reading the latest regeneration theory. Jesse dies for a living, literally. As a Necronite, she is one of the population's rare 2% who can serve as a death replacement agent, dying so others don't have to. Although each death is different, the result is the same: a life is saved, and Jesse resurrects days later with sore muscles, new scars, and another hole in her memory.

But when Jesse is murdered and becomes the sole suspect in a federal investigation, more than her freedom and sanity are at stake. She must catch the killer herself—or die trying.
Thanks for stopping by!