Books for Nothing is where I'll be updating you guys on free Kindle reads.
I download tons of Freebies weekly and sometimes I'm too lazy to let you guys know about the tons of books I get on I am a Book Hoarder, so I decided to create this! That way you guys can enjoy the awesomeness too as who doesn't love the word free!
*Note: If some aren't free they became non-free after I scheduled this post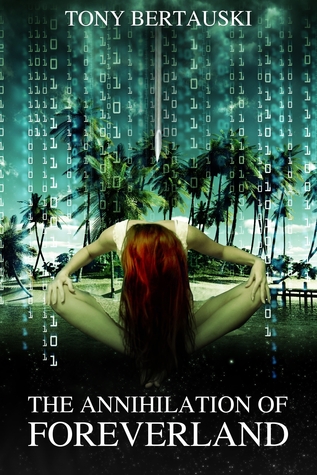 The Annihilation of Foreverland (Foreverland #1) by Tony Bertauski
Publication Date: December 31st, 2011
Genre: Young Adult Science Fiction
When kids awake on an island, they're told there was an accident. Before they can go home, they will visit Foreverland, an alternate reality that will heal their minds.

Reed dreams of a girl that tells him to resist Foreverland. He doesn't remember her name, but knows he once loved her. He'll have to endure great suffering and trust his dream. And trust he's not insane.

Danny Boy, the new arrival, meets Reed's dream girl inside Foreverland. She's stuck in the fantasy land that no kid can resist. Where every heart's desire is satisfied. Why should anyone care how Foreverland works?
The Cure by Stephanie Erickson
Publication Date: November 27th, 2013
Genre: Young Adult Science Fiction
"One life will make the difference." Macey Holsinger has heard that promise for as long as she can remember. But it hasn't saved anyone yet, not even her little brother.

Little is known about the disease, except that it's a rapid and absolute killer. Countless lives have been claimed in the last hundred years, and government scientists are working hard to stop the spread through human experimentation. Testing has killed nearly as many people as the disease and, to Macey at least, it seems like they're no closer to a cure.

At sixteen, conformity to the government's idea of "sacrifice for the greater good" is a difficult concept for Macey. Shocked by how many aspects of life the disease controls, she faces her own testing reluctantly.

Macey feels alone as questions plague her about things that are simply a way of life for most. Questions no one else thinks to ask. Why is the quest for a cure reason enough to ban things like flags and freedom of expression? How can death be justified with more death? In the end, how much will the cure cost, and why is Macey the only one who thinks the price is too high?

Answers evade her until she's left with only one question… How much will she sacrifice in the name of the cure?
Thanks for stopping by!