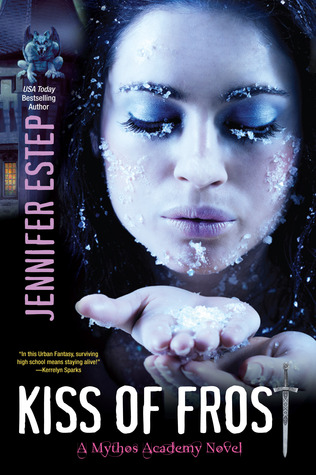 Kiss of Frost (Mythos Academy #2) by Jennifer Estep
Publication Date: November 29th, 2011
Genre: Young Adult Paranormal Romance
Pages: 337
Format: Paperback
Source: Library
Read: June 3rd to 19th, 2015
I'm Gwen Frost, a second-year warrior-in-training at Mythos Acad­emy, and I have no idea how I'm going to sur­vive the rest of the semes­ter. One day, I'm get­ting schooled in sword­play by the guy who broke my heart—the drop-dead gor­geous Logan who slays me every time. Then, an invis­i­ble archer in the Library of Antiq­ui­ties decides to use me for tar­get prac­tice. And now, I find out that some­one at the acad­emy is really a Reaper bad guy who wants me dead. I'm afraid if I don't learn how to live by the sword—with Logan's help—I just might die by the sword...
Sigh, I was so excited to read this but at last, it was just meh to me. Seriously, the first eight chapters were very similar to the beginning of Touch of Frost. Like, some of the sentences it felt like the author just took them from the first book and pasted them into this book. They felt word for word, and being constantly reminded of certain things she explained two pages ago- seriously makes it hard to get into the story. It makes the read feel very immature.
And then the winter carnival, have any of you read Frostbite by Richelle Mead? Well, this book felt exactly like that just with Spartans, Vikings, etc. So, I became a bit bored. Other books distracted me from this one, I finished three of them before this one. I actually stopped and got close to quitting it but something inside me wouldn't let me give up, so I continued on. I'm glad I finished it but I'm also glad I didn't buy it like I was planning to too.
I liked the first one because it wasn't all about romance. This one was
surrounded
by Gwen trying to move on from Logan cause it's clear he "doesn't want her". So, the best way to get over a boy is to get under another- at least that's what people say and that's what Gwen intends to do. Oh Gwen, how naive and blind you are. I hate how obvious the bad guy was and yet, she couldn't see it even when there's strong evidence right in front of her face. This is definitely one mystery that you don't have to think too hard about, actually there's no real thinking involved where the reader is concern. So, if you want something to read that doesn't make you think too hard then this is the series for you.
Overall, it wasn't that great of the sequel. I liked the ending when we started learning about some truths, like what really happened to Gwen's mother. I absolutely enjoy the book more when it's all about the reapers and what they're up to more then the romance part of the book. Those parts show Gwen she's really a strong ass character but when it's not dealing with the reapers, she seems very naive. Hopefully in the next book we'll see more of a growth from her. Am I rushing to the read the sequel? No, but maybe one day I will.
Sweet Readings Everybody!