Special Freebie!
June 13th - 14th
The Gatherers (Harvesting #0.5) by Ashley Ehlers
Publication Date: April 25th, 2015
Genre: Young Adult Horror
Ashley and Jason weren't the only ones to have an encounter with The Harvesters that day....

Coleen hasn't been the happiest with her father remarrying, especially to the mother that gave birth to her enemy, Virginia. Bleach blonde bimbo as Coleen thought the moment they started high school. But since they've graduated, their parents married for a year now, Coleen has seen a whole new side of Virginia and the girls have gotten closer than ever. However the parents don't see it, as the girls put up a front, so they plan a getaway to the family's cabin before the girls go off to college.

Being away from the city is exactly what the girls wanted. Virginia even has something special planned for Coleen on this holiday and being out in the woods is the perfect setting for it. Though things get put on hold when their family dog Trudy runs away and Coleen's step mother insists she goes out and find her. So as Coleen walks into the woods she gets a chilling sign from her step mother, Tori, which starts a domino effect of bloody unforgettable events.
Books for Nothing is where I'll be updating you guys on free Kindle reads.
I download tons of Freebies weekly and sometimes I'm too lazy to let you guys know about the tons of books I get on I am a Book Hoarder, so I decided to create this! That way you guys can enjoy the awesomeness too as who doesn't love the word free!
*Note: If some aren't free they became non-free after I scheduled this post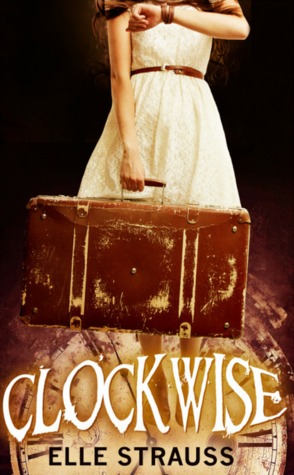 Clockwise (Clockwise #1) by Elle Strauss
Publication Date: September 19th, 2011
Genre: Young Adult Time-Travel Romance
Casey Donovan has issues: hair, height and uncontrollable trips to the 19th century! And now this --she's accidentally taken Nate Mackenzie, the cutest boy in the school, back in time. Awkward.

Protocol pressures her to tell their 1860 hosts that he is her brother and when Casey finds she has a handsome, wealthy (and unwanted) suitor, something changes in Nate. Are those romantic sparks or is it just "brotherly" protectiveness?

When they return to the present, things go back to the way they were before: Casey parked on the bottom of the rung of the social ladder and Nate perched high on the very the top. Except this time her heart is broken. Plus, her best friend is mad, her parents are split up, and her younger brother gets escorted home by the police. The only thing that could make life worse is if, by some strange twist of fate, she took Nate back to the past again.

Which of course, she does.
Everlasting (Everlasting #1) by Candace Knoebel
Publication Date: February 19th, 2014
Genre: Young Adult Paranormal Romance
What if your destiny lay on the other side of death?

The annual Culling ceremony is a day every coming-of-age novice looks forward to within the Primeval Coven. It's the start to being initiated into the Night Watchmen, humankind's protectors, and it's the long-awaited day when novices discover if they're a Hunter or a Witch.

But this day is not a happy one for Faye Middleton. Not when she's known her whole life that she's a Defect and is about to face banishment in front of her fellow novices. She's forced to attend the Culling with little hope for her future, but what she discovers about herself is far worse than she could've imagined. And far more dangerous.

Thrown into training and separated from her friends, Faye must learn to adjust. She struggles to find her place within the Coven, and with Jaxen Gramm, the darkly handsome and extremely unnerving man assigned to watch and protect her. Emotions run high, and when she discovers a deadly secret about him, her struggles deepen. As corruption within the Coven begins to unravel, Faye pieces together her role in saving the future of her people, and within Jaxen's life...but will the truth save her, or be her undoing?
Thanks for stopping by!