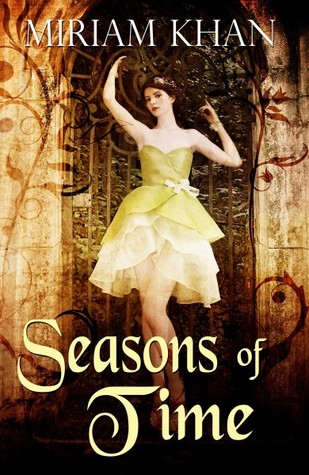 Seasons of Time by Miriam Khan
Publication Date: January 27th, 2015
Genre: Young Adult Paranormal Romance
Pages: 300
Format: Kindle
Source: Author
Read: February 18th to 26tth, 2015
With her father and his new wife needing time alone, seventeen-year-old, Lara Voight, has no choice but to accept her trip to Spring Mill, Pennsylvania and stay with her step-mom's grandmother.
On arrival, Gracen, is as cold and devious as her granddaughter, and Lara begins to experience a burning sensation. The only thing to soothe the horrid pain is the aromatic phantom scent that seems all too familiar.
And when Lara learns a girl named Penelope Le Rose was murdered at the mansion, she begins to explores the story further. Gracen is even willing to help, going as far as to show her a painting of Penelope which proves she is the spitting image.
Lara then finds Penelope's Diary and becomes haunted by visions of a ghostly boy. He seems angry at her growing affection for another.
The more Lara reads the diary, the more she realizes certain people are beginning to resemble those described. One of whom could be Penelope's killer, back to finish her, too.
~My Thoughts~
From the summary I felt like it was going to be a little cliché but I was still excited and hopeful that it wasn't going to be. Sadly it was and with a love triangle too. Though this doesn't mean I didn't enjoy it. I did, I just felt like something was missing or I wish there were a few more twists in it. I know the twists at the end definitely helped.
We honestly don't learn much about Lara so I didn't feel real connected to her. Starting from the beginning she's driving to her step-grandmother's house because her father and stepmother want to be alone. The moment she steps foot on her step-grandmother's property she's hit with a vision from the past. I really wished we got more of a buildup instead of diving head first. Like, I was expecting just her to sense the familiar scent first and then build up to the visions but no, she gets a vision first thing and doesn't freak the fudge out about it! It actually made me think that she can see ghost, however that wasn't the case and it bugged me that she didn't freak out like a normal person! Instead she just chalked it up to being overly heated from being in a car for hours.
I don't know, I just didn't feel connected to this story. Yeah, sometimes I would get sucked in and couldn't wait to see what happens next but it just didn't feel real original to me. And Lara was just going with the flow, she wasn't freaking out about what was happening and any normal person would fight against what was happening. It's like she just surrender herself to her past life the moment she arrived at the mansion. Maybe it was just because she was bored?
Overall my thing with Seasons of Time was that it was the same old, same old when it comes to storylines like this one. There was nothing in here for me to really connect to anything, nothing held me deeply. I honestly felt like, what was the point of this story? The story just wasn't strong enough in my opinion. Not the characters, the romance was and wasn't- I just didn't really like the love triangle; or the fight to figure out what was going on. I was just hovering above and going for the ride, ready for this one to end and move onto the next book.

Sweet Readings Everybody!
*Got a free copy from the author in exchange for my honest review, this in no way affected my opinion on it*