Yes, more. I just can't seem to help myself, they just seem so much fun. Though I am doing quite a few need no, none....and I promise....none will get in the way of others. Instand some may help others.
So, the new Challenges you ask?
Well,
2012 Outdo Yourself Reading Challenge
hosted by The Book Vixen
Details:
Runs January 1, 2012 – December 31, 2012 (books read prior to 1/1/12 do not count towards the challenge). You can join at anytime. Sign up on The Book Vixen's blog

.

The goal is to outdo yourself by reading more books in 2012 than you did in 2011. See the different levels below and pick the one that works best for you. Nothing is set in stone; you can change levels at any time during the challenge.

Books can be any format (bound, eBook, audio).

Re-reads and crossovers from other reading challenges are allowed.

Grab the reading challenge button and post this reading challenge on your blog to track your progress. Please include a link back to this sign-up post so others can join the reading challenge too.

You do not have to be a book blogger to participate; you could track your progress on Goodreads or LibraryThing.
Levels:
Getting my heart rate up – Read 1–5 more books
Out of breath – Read 6–10 more books
Breaking a sweat – Read 11–15 more books
I'm on fire! – Read 16+ more books
My Level will be I'm on Fire!- 16+
And thanks to the other Challenges I will no doubt but surpass that goal in no time :)...
So I am very excited to begin.
Well, of course, when the right time comes around.
2012 Young Adult Reading Challenge
Run's January 1, 2012 - December 31, 2012.
The Rules:
Anyone can join.
You don't need a blog to participate.
Non-Bloggers: Post your list of books in the comment section of the wrap-up post on Jamie's blog.
Audio, eBooks, paper, re-reads all count.
No need to list your books in advance. You may select books as you go. Even if you list them now, you can change the list if needed.
The Mini YA Reading Challenge – Read 12 Young Adult novels.
The "Fun Size" YA Reading Challenge – Read 20 Young Adult novels.
The Jumbo Size YA Reading Challenge – Read 40 Young Adult novels.
The Mega size YA Reading Challenge – Read 50+ Young Adult novels.
My Level will be "Fun Size"- read 20.
I'll probably pass it but I doubt I could reach 40 with my life and all.
So, once again, I'm excited because I pretty much just read YA. I probably bleed it.

There's a couple I would like to join but with what I have on my plate already I don't want to get out of hand. Sadly, life gets in the way of reading 24/7. But I'm (kinda) okay with that.

Here are the other ones I was thinking about,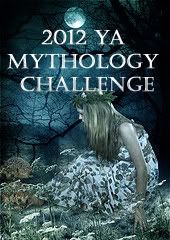 I just found the last one which is hosted by
Reading Angel
& Katie from
Katie's Book Blog
, and I haven't completely decided on that one yet. So, will see.
Oh, and Village of the Damned review will be posted tomorrow.