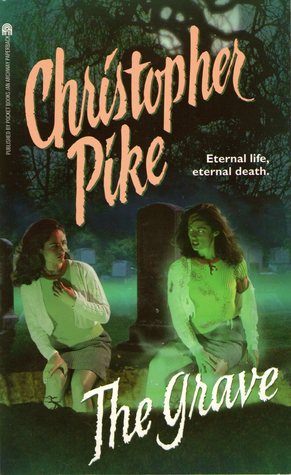 The Grave by Christopher Pike
Publication Date: September 1st, 1999
Genre: Young Adult Horror
Pages: 194
Format: Paperback
Source: Bought
Read: January 21 to 24, 2015
The grave is not the end of the story. It begins with an innocent young man being led deep into the woods by a mysterious young lady. There he is attacked by a cruel cult, stripped of his clothes, thrown naked into a coffin, and buried alive to the sound of strange chants.

It continues with a pretty girl meeting a fascinating guy. A guy who is not like other guys. Who hardly seems to blink...or breathe, and who emits a cool presence even in the midday sun.

It ends in a nightmare. In a weird realm of existence where life and death mirror each other. Where the grave no longer promises any escape, from pleasure or pain.
~My Thoughts~
I always assume that I know what's going to happen and how it'll play out but whenever I read page after page of Mr. Pike's works he always shows me how truly wrong I am. I think the reason I'm like this is because after reading so many books from one genre they can slowly all start to blend into one, following the same formula. I don't read a lot of suspense/thriller books so I shouldn't assume they'll follow the same way as young adult paranormal books haha.
The Grave was interesting, I was immediately hooked in by this mysterious girl that would soon lead Ted to his death. Then in the next chapter we meet our MC Keri. She's not like most teenagers, she has to work to pay her families bills and take care of her drug addict mother. She's got a lot going on so when Keri meets this mysterious college man she's instantly drawn to him, saying he isn't like the immature boys her age, and she sees him as a way of escape from her troubled reality. If she only knew she was going to get herself into more trouble.
Keri's character sometimes didn't think with her brain, the moment this mysterious guy walked into the record store where she worked all she thought about was stripping him of his clothes. She isn't someone that sleeps around. But she's done it a few times with her boyfriend and realized she wasn't satisfied and isn't really attracted to him in that way. Keri in the end is a cheater, in her head she broke it off with her boyfriend but she never truly sat him down and told him (that leads into trouble later on in the book) - which is why this character sometimes rubbed me the wrong way. Which is also why her sister says "You knew the guy wasn't normal. You were just lonely and horny that you went ahead and slept with him." Seriously you guys, so many red flags but Keri just wasn't thinking with her head.
Overall I truly did enjoy this, somethings may have rubbed me the wrong way- mainly Keri. But once the ball got rolling with her being kidnapped and then thrown into a freezer to die I just had to turn page after page to see what was going to happened next! As the mystery begin to unfold once Keri's changed happened I was shocked to find out how it all started, again I assumed in the beginning and it's never a good idea to assume haha. What she changed into was very interesting and with this she becomes stronger than ever so there are some bloody scenes, done really well I might add. Definitely brings the shock factor in! And I was constantly taken aback which kept me on my toes throughout the read! So if you enjoy suspense thriller reads that'll keep you guessing then this certainly is the book for you!
Will disturb your being
Sweet Readings Everybody!