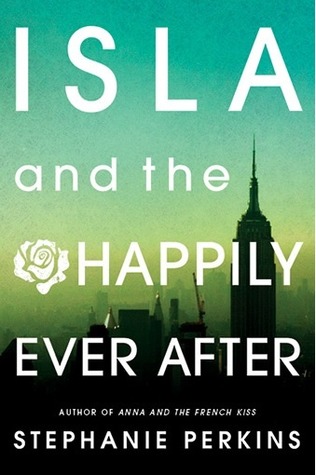 Isla and the Happily Ever After by Stephanie Perkins
Publication Date: August 14th, 2014
Genre: Young Adult Contemporary Romance
Pages: 352
Format: Hardcover
Source: Gifted
Read: January 31st to February 9th, 2015
Love ignites in the City That Never Sleeps, but can it last?

Hopeless romantic Isla has had a crush on introspective cartoonist Josh since their first year at the School of America in Paris. And after a chance encounter in Manhattan over the summer, romance might be closer than Isla imagined. But as they begin their senior year back in France, Isla and Josh are forced to confront the challenges every young couple must face, including family drama, uncertainty about their college futures, and the very real possibility of being apart.

Featuring cameos from fan-favorites Anna, Étienne, Lola, and Cricket, this sweet and sexy story of true love—set against the stunning backdrops of New York City, Paris, and Barcelona—is a swoonworthy conclusion to Stephanie Perkins's beloved series.
I was so excited when I got this as a gift from my dad but as time went on I started to become anxious with wanting to read it. Having high expectations, because I'm so excited to be back in the City of Love, but reading the reviews kind of made me scared. Eventually I told that small voice of fear in the back of my mind to shut up and picked up the book. I mean, who doesn't love to fall in love? I know I fall head over heels for my husband everyday and while he was away this book definitely helped me cope.
Though
Isla and the Happily Ever After
didn't completely sweep me off my feet I still enjoyed it. It felt a little too perfect, not much was happening and there wasn't any real struggle. It was one of those loves that came unexpected and just felt
right
. This is the reason why I just couldn't fall head over heels. However, Mrs. Perkins wrote it beautifully and showed a different type of love, it's the kind of love that happened to me.
I think another reason I couldn't fall into this world is because sometimes Isla just rubbed me the wrong way. Especially when she got mad at her best friend Kirk, seriously the girl just needed to chill, but she's young so emotions can be uncontrollable and not handled well. Not wanting to spoil anything but I definitely got mad at her at the end of the book, I was close to throwing the book at a wall, it was emotional and we all have had insecurities so I understand where she's coming from but she should have just talked it out! But when things feel to good to be true little doubts can start to form.
Josh on the other hand was charming as ever! I would seriously love to see this in his point of view! He surely swept me off my feet!
Overall I was glad to be back in Paris! It was one of the things I loved with
Anna and the French Kiss
! And I honestly don't mind that I was reading about a couple of rich kids making love. When it's right it's right and how they live is their
parents
doing because it's their
parents
money.....so I was able to let it go. And yes, they're are a couple sex scenes in this book but Mrs. Perkins did them perfectly! They were appropriate and perfect for older teens. I was actually shocked when I read there were some in here from a review because you don't have a lot of that in young adult, I loved that Mrs. Perkins pushed the boundaries!
Also, once again Anna and Etienne stole the show at the end of the book and in a big way too!! Oh my god, I'm so happy for them!! I was smiling ear to ear!!
Anna and the French Kiss
is going to be forever my favorite!!
Was
Isla and the Happily Ever After
worth the wait? Absolutely! Though I may not have been Isla biggest fan I sure loved her and Josh's love story. Sometimes if you're lucky love can just come easy and that's how it was for them. Though I missed the swooning before they got together, there was still enough for me to enjoy their story. The ending killed me with the swooning!
On a side note- I'm also a nail tech and this cover is absolutely beautiful! It got my creative juices flowing so I created this 3d flower encapsulated look.....
Sweet Readings Everybody!