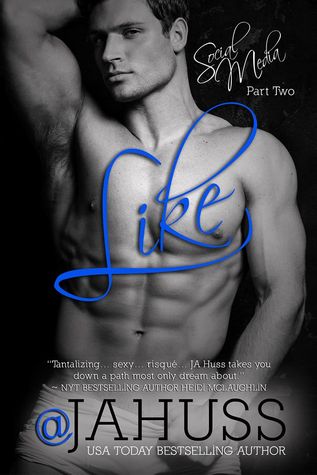 Like (Social Media #2) by J.A Huss
Publication Date: September 10th 2014
Genre: Adult Contemporary Romance
#WhatADick

Vaughn Asher. I've stalked him relentlessly. I shaped and formed my lust into the perfect dirty hashtag…day after day… weekend after weekend. He was my prince. My fairy tale. My fantasy.

I gave him the best years of my online life and what did he do for me?

Ruined my social media experience one tweet at a time. That's what.

MovieStar @VaughnAsher
@FilthyBlueBird #Fantastic #BackToNatureFucking
#MissingSomething #You

And now #TheDickWhoIsVaughnAsher thinks he can weasel his way back into this filthy blue bird's Twitter account? He's wrong.

His public fantasy is about to collide… ah, fuck it. He's hot as hell, bitches. I need more than a free sample. This time I want it all and I'll do whatever it takes to get it.
This might get little steamy, so close your eyes if you're not ready ;)
My laptop on the patio table pings a new tweet on my timeline.
@mrinvsman
– As you commanded, I'm #BareForYou
My whole day is instantly better. God, this girl just lights me up. I forget the planned tweets and just reply to her.
@mrsinvsman -
I expect obedience.
@mrinvsman
– #GoodGirlTonight Tell me what you want. ;)
@mrsinvsman - #FlatOnTheFloor #LegsOpen #FingersWet
There is no answer after this request and my heart beats a little faster at the prospect that she does not want to play with me tonight. I want her to play. A few seconds after this private admission, a ping.
@mrinvsman
– #DoneDoneAndDone Now your turn, unzip and let loose. I need a pic to continue.
Oh, that little bitch. That sneaky, delectable, horny, filthy little bitch. I laugh quietly as I consider the fact that she might have Twitter moves I've never even dreamed up yet. I unbutton and unzip my pants and my thick cock springs forward. I fist it, pumping two or three times just to get myself erect, then I scoot back and let the full length of my manhood fall across my flat, muscled stomach. I hold up the phone and snap a pic, sync it to my laptop, and attach it to the tweet.
@mrsinvsman - #LikeALollipop NOW.
God, what I'd do to her lips around my shaft right now.
@mrinvsman
– #TwirlsAndSwirls
Her tweet comes with a picture too. A high angle looking down on her face. Fingertip in her mouth, tip of her tongue seductively touching, lips puckered appropriately, fuck-me eyes at half-mast, and just the slightest hint of her open legs.
Jesus fuck. She is hot. And she is one hundred percent naked. I was almost afraid to let myself believe she'd really be playing along, but she is. She more than is, she's into it.
Block (Social Media #3) by J.A Huss
Publication Date: September 24th 2014
Genre: Adult Contemporary Romance
Grace @FilthyBlueBird
@VaughnAsher #YouAreCaredFor So the movie star says. But his idea of cared for isn't the same as mine. Obviously a #Douche.

MovieStar @VaughnAsher
@FilthyBlueBird #BehindTheScenesIsMyScene The Blue Bird has trust issues. And tantrum issues. And commitment issues.

Grace @FilthyBlueBird
@VaughnAsher #SaidTheKettleToThePot

MovieStar @VaughnAsher
@FilthyBlueBird #YouAreMine and I won't let you forget it.

Grace @FilthyBlueBird
@VaughnAsher #YouMustShitUnicorns that's how delusional your fairy tale is. #GetAGripOnReality I'm outtie.

MovieStar @VaughnAsher
@FilthyBlueBird You're an #Innie #Sweetheart :) My tongue licked all your #CuteLittleButtons.

#ForTheLoveOfFilth

Why is he so damn sexy? How will I ever get out from under Asher's thumb if I can't stop thinking about his tongue on my buttons? #HottiesNeedToPlayFair
J. A. Huss likes to write new adult books that make you think and keep you guessing. Her favorite genre to read is space opera, but since practically no one reads those books, she writes new adult science fiction, paranormal romance, contemporary romance, urban fantasy, and books about Junco (who refuses to be saddled with a label).

She has an undergraduate degree in horses, (yes, really–Thank you, Colorado State University) and a master's degree in forensic toxicology from the University of Florida. She used to have a job driving around Colorado doing pretty much nothing but shooting the breeze with farmers, but now she just writes, runs the New Adult Addiction and Clean Teen Reads Book Blogs, and runs an online science classroom for homeschoolers.
a Rafflecopter giveaway
Thanks for stopping by!