Welcome to Waiting on Wednesday! Waiting on Wednesday is a weekly event that is hosted by Jill at Breaking the Spine and spotlights upcoming releases we are eagerly anticipating. This week I am anxiously awaiting:
House of Whispers (Ellie Jordan, Ghost Trapper #5) by J.L Bryan
Publication Date: October 2nd, 2015
Genre: Adult Paranormal Mystery
The luxurious Lathrop Grand Hotel is a Savannah institution that has entertained guests for more than a century and a half, offering some of the finest accommodations in the city. Famously haunted, the hotel draws tourists from around the world eager to encounter its numerous ghosts. The hotel is also known for being honeycombed with hidden doors and secret passages, enabling staff to appear and disappear quickly as they attend to the hotel's guests.
Now some of the spirits in the Lathrop Grand have turned violent, even murderous. Ellie and Stacey must determine which ghost has become dangerous and remove it from the hotel before it can claim any more lives. They soon learn the hotel has secrets even darker than the notorious string of nineteenth-century murders that made it famous, and the powerful entities inhabiting it don't intend to leave without a fight.
Why I'm Waiting:
Because I just love this series, these characters are
family
, and because Mr. Bryan's storytelling is absolutely brilliant!! I can't get enough of this series!! I literally did this when I found out there was going to be a fifth book to the series, with a squeal of excitement of course!
My husband of course looked at me as if I was crazy, laughing, and finding it so cute that I got excited like this for a book haha. Seriously, I need this like today Mr. Bryan but because I love this series so much the wait will be worth it! I can't wait to dive into this! To see what awesome new adventure Ellie and the gang will be going on! To see if Ellie will finally, truly open up to Michael! Oh my gosh, I'm sitting on the edge of my seat waiting!
And oh boy, it's at a haunted hotel, the chills are already coming and I haven't even read it yet! Seriously, this series is fabulous and if you love ghost hunting stories then you definitely need to pick up the first book. And guess what, the first book is
FREE!
Here's a few words from my reviews of the previous books:
Amazon

/

Barnes

/

Kobo
"
I was instantly hooked! As I twitted the night I started it, late in the night mind you! "Yes, let's read a ghost story.....at night..... all alone ;) #amreading" It's loads of fun but you'll definitely be getting some chills and feeling like someone is constantly watching you, it's a great feeling if you love ghost stories! If you love the fright! I was so hooked I had to pull away so I could get some sleep before I went cross eyed and I couldn't wait to get back to it the next day of course!"
Cold Shadows (Ellie Jordan, Ghost Trapper #2)
"
I couldn't wait to fall back into this world and go on ghostly adventures with Ellie! This time around it looks like our ghost hunters are dealing with a family of ghost and they're dangerous. At first the kids may have seemed innocent but they cause just as much trouble as their father. Those ghost children brought chills up my spine, seriously intense when they're trying to convince the little boy they're haunting to kill himself, just as much as their studded belt wielding father did. These ghost are a lot more physical than the group from the first book, a little light can't scare them away."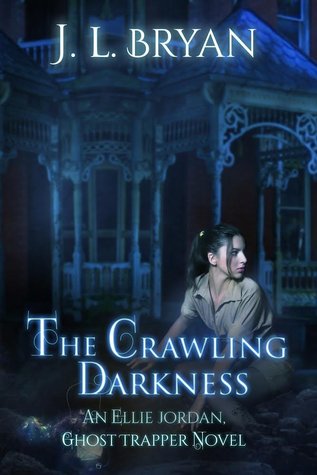 The Crawling Darkness (Ellie Jordan, Ghost Trapper #3)
"
I absolutely love how the beginning scene starts, with some girl talk. It's such a fresh air in this series and shows how much closer Ellie has gotten to Stacey, her partner in ghost trapping. Plus, Stacey is really the comedy relief in this series and I just love her to pieces, I'm so happy Ellie has allowed her into her life! I'm so in love with these characters and this series!"
Terminal (Ellie Jordan, Ghost Trapper #4)
"
Even though it felt a little slow for me and it took a little bit longer for me to really get into, it was still a great read! The tale was spun beautifully and I just loved that we got to see past clients from previous books show up in the story! And the new clients, well, it wasn't hard for me to enjoy them! That'll probably be me and my hubby one day haha."
Thanks for stopping by!