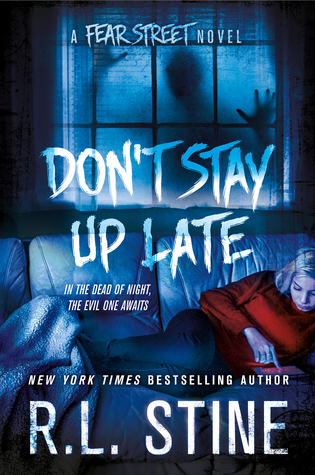 Don't Stay Up Late (Fear Street Relaunch #2) by R.L Stine
Publication Date: April 7th, 2015
Genre: Young Adult Horror
Pages: 298
Format: Hardback
Source: Netgalley
Read: August 8th to 10th, 2015
The second new book in the re-launch of R.L. Stine's Fear Street series, which sold 80 million copies around the world, making it one of the bestselling young adult series of all time.

R.L. Stine's hugely successful young adult horror series Fear Street is back after almost 2 decades. Fear Street is a worldwide phenomenon and helped to kick off the young adult craze which is still going strong today. In the second new book in this series, Don't Stay Up Late, Stine explores the unbridled terror of a damaged young lady sent on a doomed babysitting job.

Ever since a car accident killed her father and put Lisa and her mother into the hospital, Lisa can't think straight. She's plagued by nightmares and hallucinations that force her to relive the accident over and over again in vivid detail. When Lisa finds out that a neighbor is looking for a babysitter for her young son, she takes the job immediately, eager to keep busy and shake these disturbing images from her head.

But what promised to be an easy gig turns terrifying when Lisa begins to question exactly who — or what — she is babysitting.

R.L. Stine makes his triumphant return to Shadyside in the new Fear Street book Don't Stay Up Late.
~My Thoughts~
Throughout this book this felt more like a Goosebumps story than a Fear Street story sadly. Don't get me wrong, I love Goosebumps books just as much a Fear Street books (hello 90's kid) but the Fear Street books were a lot more gritter than the Goosebumps books with their killers, stalkers, murders, etc. That's why Fear Street books are my go to horror stories! Which is why I was so excited to see R.L Stine writing them again! However, Don't Stay Up Late just wasn't what I was expecting.
Yes, the storytelling was great. R.L Stine had me feeling as if I was just as crazy as the main character Lisa felt. That wasn't the problem. The problem was that I didn't really feel connect to the characters and sometimes the story. This book is bigger than the original Fear Street books as they were like only 100+ something pages. This one was almost 300 so there was a lot of world building in the beginning. I didn't have a problem with it, it's just that I'm used to his books being more fast paced than that. Which is why I didn't truly get into it till the first dead body show up, like halfway through the book.
I don't know, I enjoyed it but I'm disappointed at the same time. Like I said, this felt like a Goosebumps book. And why you may ask. Is because what was haunting Lisa was a green demon and that unexpected ending like you would get from a Goosebumps book is definitely what sold me on why Don't Stay Up Late felt like it belonged in that series more. Yes, there was one gory scene about the dead body making it not okay for the Goosebumps series but the story line overall just fits perfectly for that series. Even the truth behind the green demon.
Overall I was expecting a true Fear Street story. I was expecting a chill to crawl up my spine, I was expecting to be scared but instead I got none of those things. Yes, the green demon was creepy but it just didn't feel right. And it was so obvious to who was the green demon. Yes, the scene when the truth came out at the end of the book was a little spine chilling, that was like the only part that was. I was expecting the whole book to be that way. Though I was disappointed I'm sure the new generation will surely enjoy it!
Will I be checking out any of the other books in the relaunch series? Yep, I'll be picking up the first book at the library tomorrow! So we'll see how that goes....
*Was given a copy from the author in exchange for my honest review*
Sweet Readings Everybody!