Books for Nothing is where I'll be updating you guys on free Kindle reads.
I download tons of Freebies weekly and sometimes I'm too lazy to let you guys know about the tons of books I get on I am a Book Hoarder, so I decided to create this! That way you guys can enjoy the awesomeness too as who doesn't love the word free!
*Note: If some aren't free they became non-free after I scheduled this post
Keeper vs. Reaper (Graveyard Guardians #1) by Jennifer Malone Wright
Publication Date: August 12th, 2014
Genre: Young Adult Paranormal Romance
When her father died, Lucy Mae Estmond inherited the family business. She has known all of her life that she would be in line to watch over the souls of the recently passed, keeping them safe from the Reapers.
The soul eating Reapers have been a plague upon the Earth, stealing souls and leaving the Keepers as the only thing that stands between Heaven and Hell. The factions despise each other and have warred for generations.
Then Lucy discovers an ancient legend predicting the arrival of the Chosen One, destined to bring forth an end to the Reapers. The surprises continue when she realizes she is that person. For Lucy, being the Chosen One doesn't change much. Fighting Reapers is just another day in the life of a Keeper.
When she meets Jack Walker, they both realize they have an insane, mutual attraction. Too bad that he's been sent to prevent the prophecy from coming true. His only mission: to kill the Chosen One.
Amazon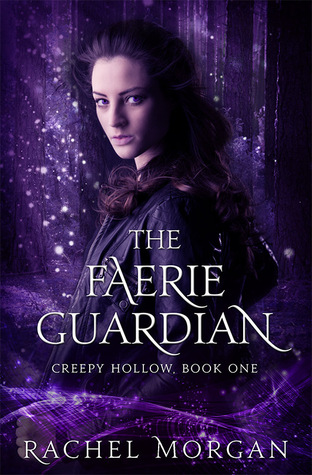 The Faerie Guardian (Creepy Hollow #1)
by Rachel Morgan
Publication Date:
October 27th, 2012
Genre:
Young Adult Paranormal Romance
Goodreads
~Summary~
Enter a hidden world of magic, mystery, danger and romance in this YA fantasy from Amazon bestselling author, Rachel Morgan...

Protecting humans from dangerous magical creatures is all in a day's work for a faerie training to be a guardian. Seventeen-year-old Violet Fairdale knows this better than anyone—she's about to become the best guardian the Guild has seen in years. That is, until a cute human boy who can somehow see through her faerie glamor follows her into the Fae realm. Now she's broken Guild Law, a crime that could lead to her expulsion.

The last thing Vi wants to do is spend any more time with the boy who got her into this mess, but the Guild requires that she return Nate to his home and make him forget everything he's discovered of the Fae realm. Easy, right? Not when you factor in evil faeries, long-lost family members, and inconvenient feelings of the romantic kind. Vi is about to find herself tangled up in a dangerous plot—and it'll take all her training to get out alive.

[This novel was originally published in four separate parts: Guardian,Labyrinth, Traitor and Masquerade. It includes bonus scenes at the end that were not published in the individual parts.]
Amazon
/
Kobo
/
Barnes
Thanks for stopping by!