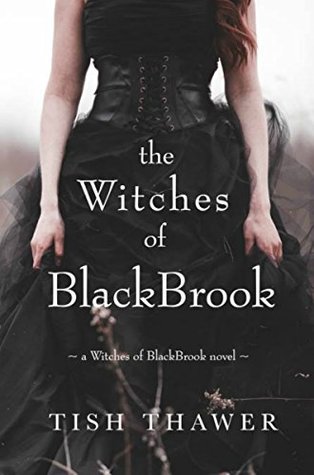 The Witches of BlackBrook (Witches of BlackBrook #1) by Tish Thawer
Publication Date: June 23rd, 2015
Genre: New Adult Paranormal Romance
Pages: 268
Format: ebook
Source: Xpresso Book Tours/Author
Read: August 26th to August 31st, 2015
Through space and time, sisters entwined. Lost then found, souls remain bound.

Three sisters escape the Salem witch trials when the eldest casts a spell that hurdles their souls forward through time. After centuries separated, fate has finally reunited them in the present day.

One the healer, one the teacher, and one the deceiver.

Will their reunion return their full powers, or end their souls journey forever?

A Witches of BlackBrook novel.
~My Thoughts~
DNF: 50%
I'm utterly disappointed. From the cover, the summary, high praises, and hype for this book I was expecting an epic kick ass read! But after reading the prologue, that bubble popped. It just went downhill from there.
There's just not enough details or depth for me. The story moves quickly, way too quickly for me, and the sad thing is nothing is going on! Seriously, most stuff feels like it's just in the story to fill the quota of words to get to a novel length. It's utterly boring. And when you think something is about to happen, the next page nothing happens. It's like the little snippets of drama is supposed to keep you interested for the big climax at the end but honestly it just annoys me.
And the characters, cue *eye rolling*. Sigh, is it sad I keep saying out loud to them to shut up? When they open their mouths, it just doesn't help the story in the least bit. For being adults they seem pretty childish. The flashbacks of the girls, they seemed more mature then they do in the new world. I don't know what that says about the new world....
The romance, ugh, more eye rolling. It feels forced, rushed and they act like a couple of teenagers. It just rubbed me the wrong way. I did not find it romantic in the least bit (there's nothing wrong with teenage love, I read loads of YA but at least in those they feel more natural then this romance did).
Overall, I wanted to DNF before I hit 20% I think but I kept going in hopes that it would get better. It didn't. I swear my mind was going numb and I just had to call it quits halfway through because nothing and not even the characters could hold me till the end. I'd rather do chores then continue reading this book. Reading this book was a chore. I'm really disappointed, the witch aspect of this fell short, it was very basic and far in between in their daily lives and I'm really sad it wasn't stronger. The summary gives promise but the execution just wasn't there. I do feel like there could be a story here if the author put in more details and depth and took out some of the cheesiness in the romance- or just the cheesiness overall. Like I said, there was a lot of eye rolling.
*Was provided with a copy from Xpresso Book Tours in exchange for my honest opinion*
Thanks for stopping by!